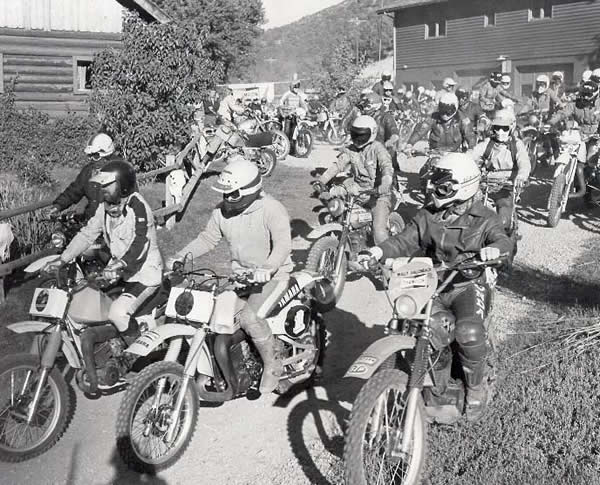 The Colorado 500 Invitational Charity Dirt Bike Ride idea formulated in 1974 when Wally Dallenbach, a former Indy 500 racecar driver, and Sherm Cooper rode their dirt bikes along off-road trails visiting the old gold-and silver-mining era ghost towns in the Colorado Rockies. They had such a memorable time they decided to return and invite some friends, Lon Bromley, Del Garner, Ed Kretz, Art Lamey, Dick Singer, and Al and Bobby Unser along for the ride and decided to make it an Annual Invite only Dirt Bike Ride, and called it the Colorado 500 because they covered nearly 500 miles the first time out and also because of Wally's racing history with the Indianapolis 500 and California 500.
Over the years the event has grown tremendously and hosted close to 3,000 riders. A very diverse group – judges, lawyers, racecar drivers, motorcycle racers, retailers, ministers, bankers, actors, wholesalers, and so on, have all shown up from every state in the U.S. and also other countries like Australia, England, Germany and Japan.
The Colorado Road Bike Ride was established in 1987. The idea was to transfer the fun and excitement you experience riding the Rockies to motorcyclists who enjoy riding the beautiful Colorado mountain roads.
Not only have these rides been a source of tremendous fun for the participants, the events have raised considerable funds for charity. In 1981, the Colorado 500 Charity Fund was established to give something back to the people in the mountain towns and communities they traveled through.
Most of the funds are dispersed to schools but they also benefit teen services, churches, medical centers, emergency rescue services, scouting and anti-drug programs. In 1993, the Colorado 500 started a Scholarship Fund which has grown as well, and is now currently awarding approx. $50,000 annually divided amongst several qualified local high school students with four-year scholarships. The students are not necessarily chosen for their academics; it's also based upon their needs and their potential "to make a difference."
Colorado towns and communities across the state have welcomed Colorado 500 riders who enjoyed the hospitality and have established life time friends in Colorado. Wally Dallenbach has been awarded 'keys' the cities along with several awards and honors on behalf of the Colorado 500 riders. Wally was also inducted into the American Motorcyclist Association Hall of Fame in 2006 for his tremendous contribution to the sport of off road motorcycling.
All-in-all, Colorado 500 has donated close to $2,000,000.00 to needy organizations and scholarship awards throughout the state, as well as supporting keeping trails open, including grants and off-road trail work.
Colorado 500 is also known as being forefront in implementing sound control as part of tech inspection in order to qualify to ride the dirt event, as well as the highest degree of trail etiquette expectations for all involved. One forest ranger remarked, 'I know it is a Colorado 500 rider because I see them before I can hear the motorcycle.'
The Colorado 500 is regarded by many as one of the premier motorcycle events in the world making it a must do to complete their motorcycling experience.