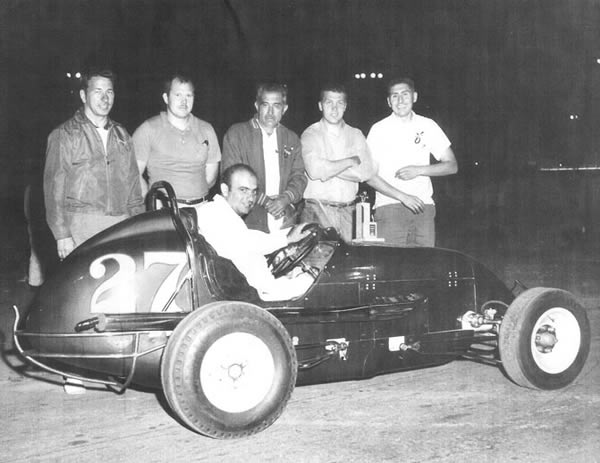 Sam Rodriguez was born in Hayden, Colo., in 1933. Following his release from active duty in the Marines, he attended Denver University. He attended his first midget race at Lakeside Speedway in 1947.
Sam purchased his first race car, a V8-60, from Dick Kendrick, in 1955. He was befriended by Lloyd Axel, Buddy Shay and Keith Andrews. They became his mentors as well has his good friends. Sam had numerous drivers in 1955, including Tommy Rice, Bert McNeese, Brad Bradford, Bob Courtney and Joe Alspach.
In 1956, Sam had Keith Andrews, Charlie Louderman and McNeese in the car. In 1956, Sam was also on the pit crew for Andrews when he finished 26th at the Indianapolis 500, driving the Dunn Engineering car #89.
Sam is pictured on the far right.
In 1957, Sam purchased a Kurtis Offenhauser and when he was car owner and chief mechanic, the car set a number of track records throughout the Midwest. In 1958 he then put Warren Scheibe in the cockpit. Sam and Warren finished ninth in the Rocky Mountain Midget Racing Association point standings in 1958. The next year Sam returned to Indy as a pit crew member on the Radsco Battery Special.
Jimmy LaManna, Sr. took over as Sam's new driver in 1960, and in 1961 they set seven fast times at Lakeside and compiled four trophy dash wins, 13 heat race wins, four main event wins and won the Molly Mayfield Foundation Benefit main event. As a result, Sam as owner/chief mechanic won the RMMRA Championship.
In 1962 Jim LaManna, Sr. remained as driver and once again the car set seven fast times, and recorded three trophy dash wins, three heat race wins, one semi main win and two main event wins. Unfortunately, the car was badly damaged in a spectacular flip at Lakeside Speedway and they ended up finishing third in championship points.
Sam continued owning cars through the early 1970s. Since retiring, he has restored three Model A's to museum quality, built a midget roadster with his good friend Ody Fellows, assisted with two Edmund midgets and has worked on numerous other cars.
Sam persevered throughout life, working his way through college, the USMC, and working his way up in the meat packing business from cleaning the kill floor to becoming owner of his own company. He often worked two jobs to support his racing dreams and became the first Hispanic owner/mechanic to win a RMMRA Championship.