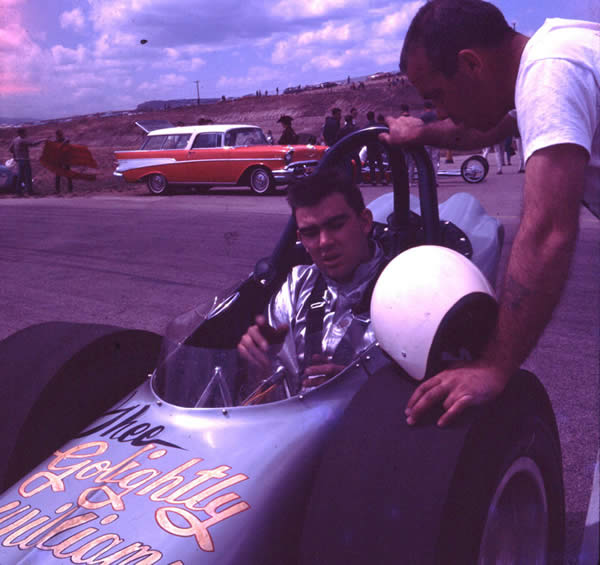 Roy wasn't born with nitro in his veins, but he was barely out of short pants when his life-long love of cars and racing began. The Denver native started with a 1928 Model A that he modified with a V-8 engine. Soon, he was racing it, and others like it, on the streets and byways of the Denver area, long before official tracks allowed a proper racing venue. Military service temporarily interrupted his racing and car building hobby, but he reclaimed his interest upon his return to Denver in 1953. By that time organized racing was a regular occasion at Lowry Air Force Base, among other locations.
The NHRA nationals, held in Kansas City in 1954, changed Roy's attitude about racing. He built his first dragster in 1955, based on what he had seen in Kansas City. He raced on asphalt tracks in Scottsbluff, Neb., Kansas City and in Pueblo and Colorado Springs, Colo. It was around this time that the Denver Strippers, a hot rod club, was formed with Roy as a charter member. They helped to organize races and worked on cars together.
Roy's record-breaking race, the first in Colorado to reach 160 miles per hour, came during a routine afternoon of racing. He had flirted with speeds in the 145 to 148 miles per hour range, but the celebration began as soon as his parachute opened that day in 1958. Never afraid of trying new things, he was also the first Colorado racer to use 100 percent nitro as fuel, which others had been afraid to try. His fastest speed was 216 miles per hour in 1965.
He served as a member of the pit crew for the Frantic Four out of Pomona, Calif., and worked on their cars whenever he had a chance. While he quit driving in 1966 due to the financial burden, he didn't quit racing. He continued as a pit crew member at the Baja, Calif. races with VW Beatles in the '70s and played the same role in off-road races throughout the decade.