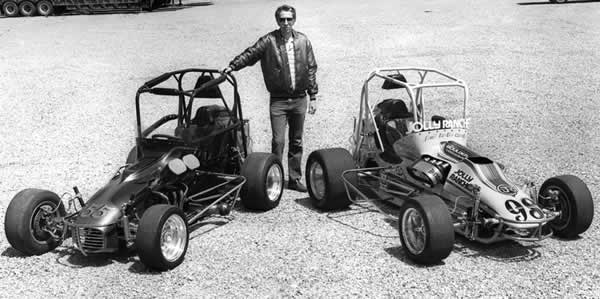 Colorado native Ron Schleiger attended his first race a young age. In his own words, "My passion for auto racing started when I was six or seven years old. My dad took me to Speedway Park, a track, a north of Fort Collins, for the midget races. From the minute I saw the first racer come out of the pits, I was hooked. The beautiful cars, the sound, speed and alky fumes, it don't get any better". As Ron grew into his teens, he became more involved with car culture, buying all of the Rodding and Racing magazines he could find. He heard his older brother talk about midget racing at Lakeside Speedway, and begged to go along to watch the action there. Lakeside became his favorite track ("with its atmosphere and history, it's hard to beat"). A job in highway construction provided funds and an unexpected resource for the acquisition of Ron's first race car. Also working in the construction trade was Denver racer Tommy Rice, who advised young Ron on which cars might be available for purchase, A deal was struck to purchase Earl Zeal's Kurtis V-8/60 midget. "We bought it, painted it light yellow, hauled it to Lakeside, joined the RMMRA, and we were on our way. This was 1962. We ran the car for a few years and had some success winning B-Dashes, heat races and semi-mains". The Kurtis midget gave way to a USAC midget powered by a Chevy II engine, and in the mid-190-70's, Ron quit his job to work on race cars fulltime. He eventually fulfilled a long-time aspiration and began to design and build his own race cars.
In Ron's estimation, a turning point came in the summer of 1976, when driver Mike Gregg started in the last row of a USAC feature at Colorado National Speedway in one of Ron's cars. He finished third, and the two began a long and illustrious collaboration. In the winter of 1976-77, car owner Hank Hersh contracted Ron to design and build a complete car to run during the 1977 season. With Mike Gregg at the wheel, Ron's Hersh-sponspored cars won six consecutive RMMRA championships, starting with the 1977 season, followed by two more titles from 1984-87. The team also did well outside of Colorado, winning the Western States Nationals in Phoenix, races on ESPN Thunder, and the Belleville Midget Nationals, among many others. Over a long career as a race car designer and fabricator, Ron built a variety of well-constructed and competitive cars that were successful on both regional and national levels of oval-track racing. His cars were driven by dozens of drivers to multiple track and national championships. Drivers who piloted Ron's cars include Joe Lehman, Tom Frantz, Leo Tucker, Rick Montgomery, and of course, Mike Gregg. Ron states, "Other cars and drivers were very competitive and in the top ten in points for quite a few years in my cars. I am not sure how many cars I built of how many racers they won. However, I was very busy building quarter midgets, mini sprints, midgets, sprint cars, Silver Crown cars, and a ton of hot rods. I made parts for restored WWII airplanes and restored race cars, and countless repair jobs. Best of all, I met a lot of good and interesting people, and became lifelong friends with most of them".
Rod Schleiger has been Colorado's most accomplished race car builder over multiple decades of precise, top-quality fabrication work. His Hall of Fame induction recognizes the innovative designs and building skills that resulted in machines capable of winning every time they hit the track.