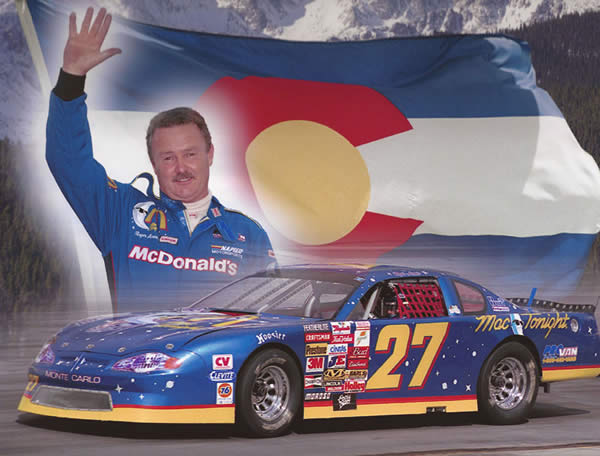 Thanks to his father, Walt Avants, Roger Avants got the racing bug more than 40 years ago. Roger started out racing in the Figure Eight Division at Englewood Speedway along with his brother, Larry, who raced in the Sportsman Division. It was here that Roger mastered car control. After racing five years in figure eights, Roger moved up to the Late Model Division, much to his mother's dismay. She wanted him to win a championship in figure eights before moving up to late models.
After Englewood Speedway closed in 1979, Roger ran late models regionally. He won the championship at Colorado Springs International Speedway in 1981 and was also very successful outside Colorado, winning many races in Texas and Oklahoma. In 1986 the NASCAR Southwest Touring Series began. Roger won the inaugural Southwest Tour Race at Saugus Speedway in California.
After a couple of years on the road, Roger came home to race when Colorado National Speedway was paved in 1989. He won his first championship at CNS in 1990 followed by track championships in 1992, 1993, and 1995. During those years, Roger also ran ASA and Midwest Series. In 2002, not only did Roger win the championship at CNS, but he also won the NASCAR Weekly Racing Series Northwest Region Championship. This is one of the biggest accomplishments of his career and one in which he is most proud.
In 2011, Roger won his most recent championship in the Pro Trucks Division at Colorado National Speedway where he is still competing weekly in both the Late Model Division and Pro Truck Division.
Roger has driven for many car owners all across the country throughout his racing career, and they are as follows: Walt Avants, Ed Brunner, Mark Tunstead, Jerry Malloy, Alan Beebee, Darrel Smith, Dick Hoffman, Don Wilson, Mike Leary, Don Smith, Mark Vidger, Gary Young, Dave Napier and Alex Ortiz. One of the awards Roger is very proud of is the fan voted "Most Popular Driver Award" which he won five years in a row at Colorado National Speedway. He has been awarded "Overall Sportsman of the Year" a couple of times as well.
For Roger, racing is not only about the competition, but it is also about the people and it is a way for him to give back to the community. He was a part of the Missing Children's Task force and has the honor of having the most "found kids" of all of the drivers who posted pictures of missing children on their cars. He also had the privilege of meeting some of the kids after they were found! He participated in the Englewood Speed Pledge Program promoting safe driving on the city streets.
Not only is Roger a fierce competitor, he is also a mentor to many of the drivers and now has the opportunity to share his knowledge through his job at Leary Racing Products.