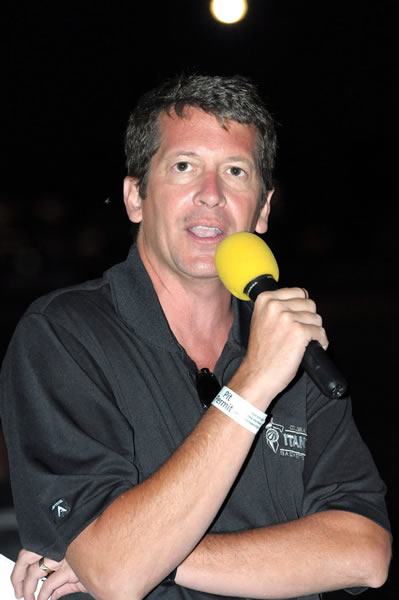 A Colorado native, Rob Johnson has spent much of his 25+ year professional career in sports management positions up and down the Front Range of the Rockies.
After graduating from the University of Colorado with a journalism degree in 1990, he ventured to Kansas City to work for a leading advertising and public relations firm, Barkley & Evergreen Advertising, on motorsports and finance accounts. There, he managed public relations and advertising projects on behalf of Purolator Filters, Western Auto and AE Clevite Engine Parts. Upon returning to his hometown in 1994, he helped with the start-up of several marketing firms, ultimately becoming the manager of the public relations division of the Denver-based strategic marketing firm of Greenberg Baron Simon & Miller. There he worked for such clients as Pepsi Center, Colorado Avalanche, MLB's '98 All-Star Game at Coors Field, and Turner Sports' Atlanta Arena, and as one of the initial strategic marketing and public relations consultants on Pikes Peak International Raceway, a 1,200-acre, 42,000-seat complex built in 1996 in Fountain, Colorado.
In November 1998, Rob was named president of Pikes Peak International Raceway where for eight years he oversaw a major motorsports calendar, including NASCAR, IndyCar, AMA and USAC and more than 100 days of additional track rental activities. In 2006, he became general manager of the Grand Prix of Denver, a Champ Car street race held on the streets of Denver. He was also named vice president of Sutton International Motorsports, where he managed sales, marketing and public relations initiatives for the organization's NASCAR, Baja and Champ Car projects. In addition, Rob has served as the race director for the Shell Eco-Marathon for the past eight years. In this role, he oversees a fuel mileage competition of more than 150 high school and college teams from around the world. The event is currently held on the streets of Detroit. He has also managed the event in California and Texas.
Outside of racing, Rob is currently the chief executive officer of the Billiard Congress of America, a non-profit trade organization dedicated to promoting the game of billiards though educational, marketing and promotional efforts, annual industry trade shows, tournaments and other programs designed to encourage play. He is also the managing director of a non-profit association and conference management firm. Rob has also been actively involved in the community, having served on the board of directors for 10 years, including six as chairman of the board, of the Colorado Motorsports Hall of Fame. He has also served on the board of directors for the Pikes Peak International Hill Climb, University of Colorado Alumni Association, Fort Carson Educational Museum and University of Colorado at Colorado Springs Chancellor's Leadership Class. Rob is the recipient of the 2015 Jerry Van Dyke Memorial Award.
Rob, his wife, Kari, and their three boys live in Superior, Colo.