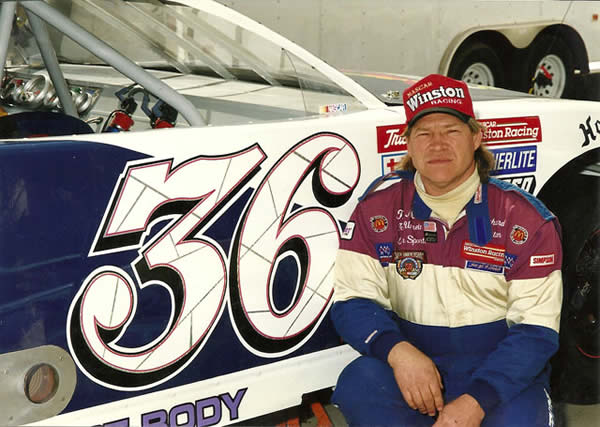 After spending many years attending races at Englewood Speedway and Lakeside Speedway, Richard Burton's racing career began in figure eight and demolition derby racing when he built his first cars in 1969. In addition to winning many demo derbies in his early years, he also won two Figure Eight Season Championships in 1977 and 1978. His 1978 season featured 14 main event wins in a row, and 16 out of 20 main event wins overall. He also won the 1978 championship by a 1,100 point margin.
In 1978 and 1979, Richard and his grandfather, Harold Brady "76," both won major awards from the Colorado Motorsports Hall of Fame. The awards were given to Richard for "Top Oval Track Driver" and Harold Brady for "Mechanic of the Year."
When Englewood Speedway closed, Richard made the move to Lakeside Speedway where he again handily won a Street Stock Track Championship. He was then asked to drive for Wes Padgett and Big Bill Johnson in the sportsman cars at Lakeside Speedway and Colorado Springs International Speedway. After running a season at Colorado National Speedway on the dirt, he returned to compete at Colorado Springs International Speedway, driving his own limited late model. During that season he also ran at I-80 Speedway in Greenwood, Neb. and at Big Country Speedway in Cheyenne, Wyo.
He returned to race at Colorado National Speedway when it was paved in 1989. He ran in the Sportsman Division in a Don Wilson built chassis. After finishing in the top five two straight years, he got his third track championship in 1993. Richard also drove a Grand American Modified for Darrell Smith where he finished in the top six. He continued to run at that track and in 1994, he moved to the Late Model Division. He was selected "Sportsman of the Year" from 1995 to 1997. In 1999, driving for Jim Newland and Tony Unrien, he won the "Challenge Cup" in the Late Model Division and the coveted Late Model Championship. He then moved to the Truck Division, driving for owners Alan Carter and John Shaw. In 2006, while driving his own truck, he won his sixth track championship. He continued to race in the Truck Division where he was battling for another championship, but his season ended before the final week of the 2009 season.
On September 9, 2009, Richard was seriously injured when he was struck by lightning. After several months of rehabilitation, he battled his way back and returned to the track in time to watch and spot for his grandson, Matthew, who competes in the truck Richard was driving. Richard wants to return back behind the wheel, but if he cannot, he will continue to be a part of automobile racing in some capacity.
In Richard's 40 years in racing, he has won 6 track championships, recorded 31 top 10s and 23 top fives, and had 31 perfect attendance seasons. In over 700 main event starts, Richard has recorded more than 130 main event wins.
Richard has also run in several NASCAR Touring Division races, and he also participated in the World Figure Eight Championships in Islip, NY and in Saugus, Calif.
Richard has driven for some great owners, including Jim Newland, Tony Unrien, Alan Carter, John Shaw, Darrell Smith and Larry Craver. He has had the opportunity to crew for some of the best, including Rick Carelli, Don Wilson, Roger Avants, Kevin Clark, and Chris Eggleston, among others. His crews have been mostly family members including his wife of 41 years, three children, grandchildren and very close friends. Two of his crew members won the True Value Gold Wrench Award.
Richard's proudest moments have been being a part of the Englewood Speed Pledge program to make our streets safer. He did this along with Roger Avants, Roger Mitchell and Nancy Peterson. This has included school visits and many hospitals trips to visit sick and hurting children. His goal was to make them smile and give them and their families hope. This is more important to him than any achievements possible on any race track.