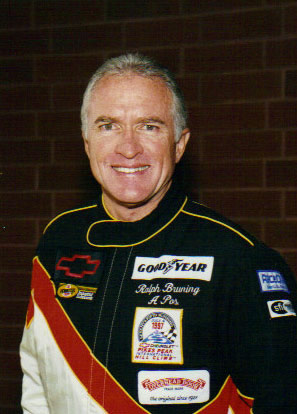 Ralph Bruning was born in 1945 in San Diego, Calif. Ralph's father was career Navy, therefore, the family moved often, and finally settled in 1959. Ralph graduated from Wasson High in 1963 and received a B.A. degree from Western State College in 1968.
He began his racing career the summer of 1966, when he decided to enter the Pikes Peak Hill Climb. He drove his street car, a 1964 4-cylinder Sumbeam Alpine convertible, in the sports car class. His time was unmentionable as even the pace car's time beat his. Ralph enjoyed the race so much that he bought a used sprint car and raced at Belleville, Kansas. There, he flipped end-over-end on the oval track, but was unscathed. He was determined to continue racing. The sprint car was repaired and raced in the 1966 Pikes Peak Hill Climb, in the championship class. After racing that car for two years, he built a beautiful Chevy Chevelle. By then, Ralph had married Marcia Mendrop and started a family. In 1972, Ralph and his family moved to Lawton, Ok for a short time on a business venture.
The Chevelle was completed in 1972, and Ralph again entered the Hill Climb, this time finishing 6th. In 1973, The Brunings moved to Wichita, Kansas, but again returned to Colorado Springs for the Pikes Peak Hill Climb. This race marked his first victory. The family moved back to Colorado Springs in 1974. Ralph's new job was the service manager for the Saab/Subaru dealership.
His second and third wins were back-to-back in 1976 and 1977. In 1979, he drove for Silliman Racing Enterprises from Albuquerque. Ralph totaled the car during the first day of practice on the bottom section. He pulled the team together, along with many friends and businesses, and rebuilt the car in 48 hours. We won the race for the 4th time. In 1980 Ralph decided to change careers at the age of 34 and graduated from the Colorado Springs Police Academy. He spent 19 years on the force and was awarded two Medals of Valor and one Medal of Honor.
In 1982, he drove a 1980 Monza for his 5th win. He won the event for the 6th time in 1988. In 1991, Ralph again visited victory circle on Pikes Peak, this timing driving for John Day & Sons Racing. 1992 was a momentous year for Ralph as he recorded his 8th victory for Quanz Boys Racing Team from Albuquerque. In 1998, Ralph was diagnosed with terminal pancreatic cancer. He did race with a chemo pack and oxygen strapped to his body. He finished second. Because of his determination, Ralph received the Sword of Hope Award from the American Cancer Society.
In 2000, Ralph died peacefully at home with his family.