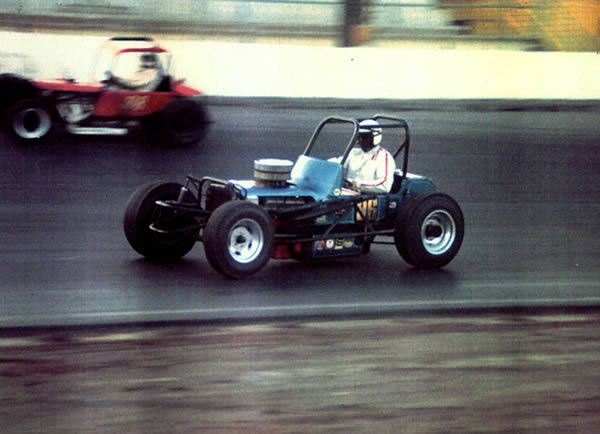 Pete Stringer's love affair with motorsports began at a young age. It began when he turned his brother's soap box derby car into a coupe and added the number 45. Pete's first experience at the racetrack began at Lakeside Speedway, where his dad would take him if he tried hard in school, stayed out of trouble, listened to his mom, mowed the yard and washed his dad's car. His dad would then take him to the races every Sunday night and wait for long hours after the races ended so Pete could hang out in the pits.
Pete began building his first car when he was in high school, with help from Joe Lehman. With the help of Joe, Pete was able to win a few races and a main event during his first season of racing.
In the early years, Pete raced on Saturday night in Colorado Springs and at Englewood Speedway on Sunday night. He also competed in Kansas. Then in 1965, Pete competed in the Metropolitan Championship between Englewood Speedway and Lakeside Speedway. The Championship consisted of two nights of racing and each speedway. Pete won three of the four nights on his way to claiming the Metropolitan Championship in his Modified.
In 1967, Pete built a car to take to the Canadian American Modified Racing Association. He raced throughout Canada, Washington, Oregon, Idaho and Utah and would up sixth in the season point standings.
Pete drove a Super Modified for John Roddy in 1969. During the season, he was racing in the Sam Gallo Benefit Race at Lakeside Speedway when he was seriously burned. The car broke a right rear hub and axle and went into the fence. At that point the rear frame also broke and punctured the full fuel tank. When the car was sliding into the infield, Pete pushed the brake pedal, but his foot got caught under the brake pedal and he couldn't get out of the car. If it wasn't for the Lakeside Speedway Fire Crew, Pete would have never gotten out. When he got to the hospital, they found that his helmet had melted into his hair and because he had inhaled so many fumes, the doctors told Pete he was "close to the end." While Pete couldn't speak for about two weeks, he survived the accident and began driving a Late Model for the Bond Brothers in late 1970.
In that car, he won Late Model Season Championships at Englewood Speedway in 1971 and 1972. He also won the 200 lap ARCA event in Winchester, Indiana in the same car during 1972.
Pete then won the Mini-Stock Season Championships at Englewood Speedway and Lakeside Speedway in 1972 and 1973 driving a Volkswagen for Tone Peconi and Vern Hagstead Motors.
He built his own Late Model in 1973 and raced at Lakeside Speedway, Englewood Speedway and Colorado Springs International Speedway. He finished second, by only five points, in the season points at Englewood Speedway that season.
Pete then drove a Sprint Car in 1975 for Doc Shaffer. He raced at Colorado National Speedway, in California and in Tampa, Florida. In Florida he won the A&W Gold Cup.
In 1977, Pete built another Late Model with a Larry Phillips chassis and won the Late Model Season Championship at Englewood Speedway. During the last season of competition at Englewood Speedway in 1979, he was leading the point standings late in the season when his throttle stuck in a main event and he totaled his car. He also broke seven bones in his left foot, four ribs on his right side and punctured a lung. Pete's wife, Sally, passed away six years ago.