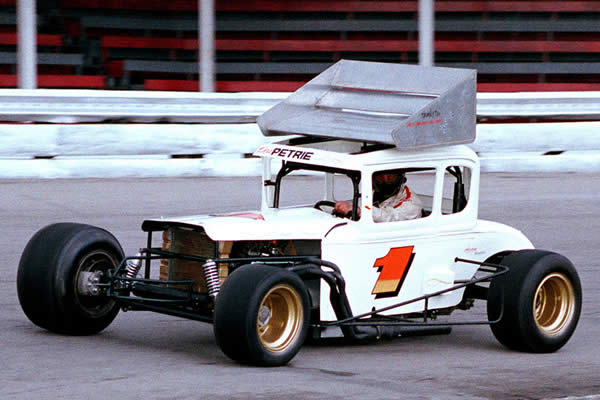 Pat Petrie started going to Lakeside Speedway when he was 8 or 9 years olds to watch his cousins Elmer Sauer, Sam Sauer, and Carolyn Day race. He was "instantly" hooked on racing. Elmer Sauer, who was president of the midget racing club, would sneak Pat into the pits and let him ride around the track in the push trucks. He began his racing career at Englewood Speedway in 1963, where they allowed drivers to race at 18 years old—at Lakeside, the minimum age was 21. The following year, Lakeside changed the minimum age to 18, so Pat moved his racing operation there.
Pat won his first track championship in 1967, driving a Plymouth Valiant in the Compact Division. He followed that with Modified Division championships in 1977 and 1979. Pat raced at numerous tracks in Colorado: Lakeside, Englewood, Century 21, Colorado Springs International, Beacon Hill, and Hayden, as well as traveling to out-of-state races in Cheyenne, Wyoming; Salt Lake City, Utah; and Craig Road Speedway in Las Vegas, Nevada while competing in both Modified and Late Model divisions.
Pat stepped away from driving competitively and moved to Las Vegas in 1984, where he began helping his sons, who were racing at Las Vegas Speedway. In 2000, Pat marked the beginning of "phase two" of his racing career by building a Sportsman Division late model with the help of his son, Joe. That phase of his career was nearly ended in the same year by a near-fatal heart attack, yet he returned to the track in 2001 and won the Championship in his division while another son, Pat, Jr., won the title in his class. It was at this point that Pat chose to retire for good, although he continues to support his sons' and other young drivers racing efforts any way he can, offering his experience and knowledge to those just starting out in the sport he still loves.
Pat Petrie acknowledges and thanks those who have supportive throughout his career, starting with his father, Sam Petrie, whose guidance was instrumental in Pat's success, as well as family—wife Kathie, and children Sam, Pat, Jr., Joe, Jim, Donny, and Kathie. He is also thankful to Elmer and Sammy Sauer, as well as Joe Kerpin for teaching him what they knew about building and driving race cars. Pat Petrie passed away in February, 2022