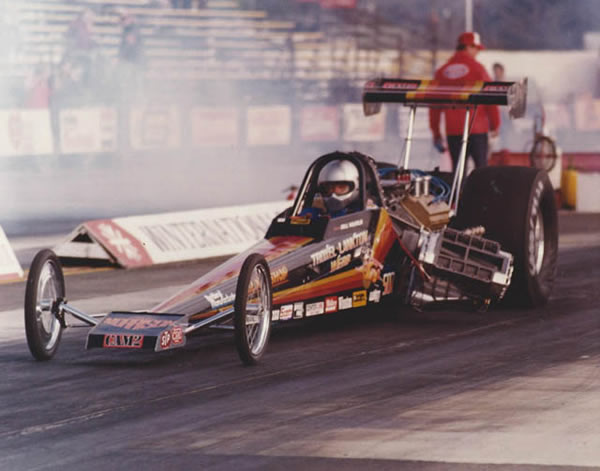 Born in Wichita, Kansas in 1948, Mike Troxel got his first taste of success on the track as a youngster racing go-carts. In his early 20's, he rebuilt the small block "fuelie" out of his 64′ Corvette in the basement. His dad wasn't sure which was the bigger challenge; rebuilding the engine or getting it out of the basement.
Mike moved to Colorado in 1968 and worked as a machinist. Like most kids in the day, he got his first taste for speed on the streets of Denver. He transitioned to racing at Bandimere Speedway out of a concern for safety or more likely a concern for getting a ticket. He also went to work for Bandimere's machine shop and eventually their parts store.
Over the years Mike raced his Corvette and a 70′ Nova before graduating to a front engine dragster. He won the "Rookie of The Year" honors in 1977 as well as "Top Sportsman" and the Competition Eliminator Championship for the National Hot Rod Association's Division 5. Based on those accomplishments he won the Colorado Motorsports Hall of Fame "Top Colorado Drag Racer" award in 1978.
To afford his "racing habit", Mike honed his skills in welding, chassis building, painting and bodywork. This allowed him to build his own rear engine dragsters. He worked during the day at the Peek Brothers chassis shop to pay the family bills and after hours opened his first small machine shop business. The success of his machine shop allowed Mike to move up to the newly designated NHRA Pro Comp class as the company grew.
Mike raced in the NHRA Pro Comp class which eventually became Top Alcohol Dragster (TAD). He eventually partnered with friends Joe Lankton and Mike Webb on the "Mighty Mouse" car. In 1986, he sold his business and committed to racing full time. That commitment paid off in 1987 when he won his first national event, the US Nationals, NHRA's most prestigious event. His "overnight success" surprised a lot of people in the sport who were unaware of his history. In that same year he won several divisional events, and a "best-engineered car" award to round out his breakthrough season.
Mike returned in 1988 with a win at the season opening NHRA Winter Nationals. That was a shot across the bow of his competitors, sending the message of what was to come. He had an unprecedented season, winning six NHRA national events, as well as two IHRA events and five NHRA divisional races. No other driver in the class had won that many national events in one season. He went on to win the 1988 Top Alcohol Dragster NHRA season championship in commanding style.
In 1989, he teamed up with Gary Sumek driving the LENCO dragster. That season was cut short by a serious crash, though the team did return later that season. Mike decided to focus on his newly established machine shop, which he ran through most of the 90's before returning to competition. In 1996, almost a decade after his first win in the class, he went to the final round at three NHRA national events. He continued to own and tune competitive cars in the class and though he never returned to the driver's seat he coached his drivers on to winning careers.
Colorado had some of the toughest competitors in the TAD class, producing national champions in 1981 with Brian Raymer and in 1987 with Denny Lucas before Mike's championship in 1988. Racing against some of the toughest competitors in the class and in the tricky high altitude conditions made Mike a better racer. Mike's proudest moment was seeing his daughter, Melanie, launch her own professional career.
His competitiveness and passion for racing continued until his passing in 2000.