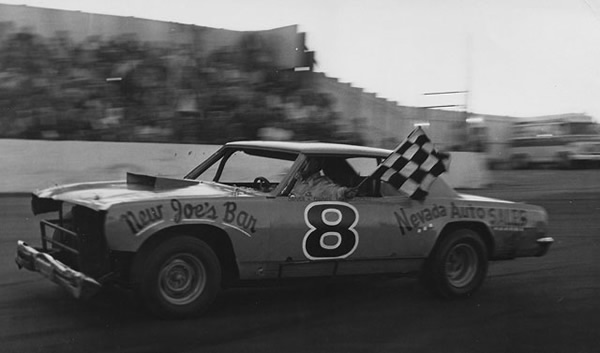 Mike Bonicelli began racing at age 18, when he built a drag car and raced it locally in Colorado. However, his dream was to race ovals, so before his 20th birthday he switched to local stock car racing.
Mike began racing at Pikes Peak Speedway in 1971 and was very successful in the late model stock car class. He had many "fast times" and won a number of main events. He then went on to race at Colorado Springs International Speedway, which he and his dad built east of Colorado Springs in 1976. They contacted NASCAR for sanctioning and their track became the first short track in Colorado to have NASCAR sanctioned events. This was the beginning of the Winston Racing Series in Colorado and Mike was the NASCAR Winston Racing Series Champion in 1978.
During his years of racing in Colorado Springs, Mike was an active member of the Pikes Peak Stock Car Racing Association, and over the years he held many positions as an officer and also as chairman of the board.
Mike continued to run at CSIS but he wanted to advance again and began racing at Colorado National Speedway in Erie, Colo. against Denver-area competitors. He also ran short track "open competitions" in Colorado, Nebraska, Utah, Nevada, Arizona, Texas, California, and Washington. They were very successful, winning many "open competitions," holding track records, and having a winning record of over 100 wins on short tracks. Mike's pink number 8 Camaro was featured on the cover of Circle Track Magazine during this time, which was a great honor to Mike and his team.
The fame of the Pikes Peak Hill Climb pulled at Mike and he drove up "the hill" twice. He finished the first time on two flat tires and during the second race he rolled the race car at the picnic grounds in an effort to miss some spectators that were standing hand-in-hand across the race course.
In 1980, Mike drove a Grand National car owned by Chuck Williamson of Seaside, California at Phoenix International Raceway. Mike was running third in the race when an unscheduled pit stop dropped him to a ninth place finish, but finishing in the top 10 in his first NASCAR Grand National Race spurred him on to want more.
The team then put together a car for the NASCAR Grand National Series in the Southeast. After running a limited schedule in the Grand National Series for a couple of years, Mike found he could not breathe well enough for the longer races due to acute asthma. He knew that his driving career was going to have to end soon, and although he was a very successful driver, he would step back to ownership and hire drivers for his team. In the last few years of Mike's team ownership, they finished second in the SouthWest Tour, and had the "Rookie of the Year" in the Southwest Tour.
Mike finally decided to sell his cars and equipment in 2003. However, he continues to help young racers in his area to see if they have what it takes to go "big time," and counsels them on the hard road to get there.