Keith Rauch was born in 1969 in Phoenix, Arizona. His racing career began at the age of 4 1/2 when his father, Ed, purchased his first Quarter Midget. Keith raced Quarter Midgets until he turned 14, running locally at South Mountain Speedway and travelling to national events. During this time, he notched more than 300 main event wins in several different classes, with his most memorable wins at the Las Vegas Championship and the California Indoor Championship in Sacramento.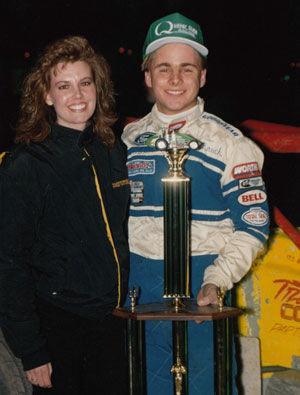 At the age of 15, Keith started racing Micro Midgets with much success, and at the age of 16, he moved up to the larger engine class, winning many races including the 75-lap Arizona Championship Race.
Keith's next career move was to full size Midgets in his dad's Cosworth. One of his biggest highlights was winning the Hank Arnold Memorial Race driving for his dad. Later, Keith raced in the Western World Championships, driving for the legendary Wayne Weiler. They made the feature, but mechanical issues forced them out. However, his efforts didn't go unnoticed as Denver's Tony Finley was there and approached Keith about coming to Denver to drive his Midget.
During his first year with Finley, Keith won two features, including his first Rocky Mountain Midget Racing Association main event win in 1990. He also finished 4th in the RMMRA season point standings that year.
The spring of 1991 presented one of Keith's career highlights when he received a call from Parnelli Jones to drive his son's, P.J., car for the first televised ESPN Thursday Night Thunder Race in Ventura, California. P.J. had a prior commitment, so Keith flew out to California and won the feature. Keith continued to race the Thursday Night Thunder and Saturday Night Thunder series dirt events in Ventura, California for a couple of years while driving for John McLaughlin and John Lawson. Keith raced many other tracks around the country driving for Andy Bondio, Duane Esslinger, Joe Dooling, Sean Birmingham and many others.
Keith went on to win five RMMRA Season Championships, including the 1993, 2000, 2009, 2012 and 2013 Championships.
He also won six 6 Roger Mauro Mile-Hi Classic Championships and has notched 60 career RMMRA Feature Wins, 47 second place finishes, and 71 heat race wins.
Keith's considers his biggest accomplishment in the #77 Finley car to be in 1990 when we won the Quaker State United States Auto Club National Championship in El Centro, California.
Other significant accomplishments include: three USAC Western States feature wins at Lake Port, Calif., Ventura, Calif., and Denver, Colo.; a 3rd Place finish at a USAC national event in Lincoln, Neb.; a 4th Place USAC Western State feature win in Bakersfield, Calif.; and, a 5th place finish in the Saturday A-main feature at the 2001 Chili Bowl in Tulsa, Ok.
In Colorado, Keith raced Midgets for many great car owners over the years, including Tony Finley, Frank Peterson, Steve Peachey, Robert Hanley, Greg Schaefer, Todd Henry, Mike Minarik, Harry Conklin and Mick Dyer.
In addition to racing locally and nationally, Keith also made two separate trips to Australia to race "down under."
In addition to Midgets, Keith ran Sprint Cars at Rocky Mountain National Speedway in Denver and numerous other tracks in Nebraska, Kansas, Iowa, South Dakota, Nevada, Arizona, Wyoming and New Mexico for Robert Hanley, Greg Schaefer, Ernie DiCroce, Bill Staub and John Schmitz. Keith's achievements in Sprint Cars include the 1999 Rocky Mountain National Speedway Sprint Car Season Championship and 2004 ASCS Regional Championship.
Keith continues to race and is currently driving Frank Peterson's Midget. Keith and his wife, Christy, (DiCroce) live in Thornton, Colo.