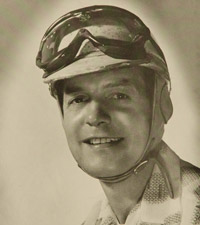 Keith Andrews started oval track racing in 1946 driving Roadsters. In 1947, he began driving midgets and won three feature races at Lakeside Speedway. The following year he raced midgets on the old AAA circuit in the Eastern United Sates. In 1950, Andrews finished fifth in the Rocky Mountain Midget Racing Association's point standings and the following year missed winning their championship by only five points when the title was decided on the last night of racing. He finished second in the Pikes Peak Hill Climb in 1953 and won the event in 1954.
In 1954, Andrews scored a major upset in racing when he and his co-driver, Blu Plemmens, finished third in the grueling Pan American Road Race which ran from Mexico City to Juarez, Mexico. They drove a Cadillac that Keith had borrowed from an automobile dealer in Colorado Springs and beat several brand new, specially prepared; factory owned Lincolns that were supposed to take the top five spots.
Andrews competed in the Indianapolis 500 finishing 20th in 1955 and 26th in 1956. He was fatally injured in an accident while practicing for the 1957 race at Indianapolis.