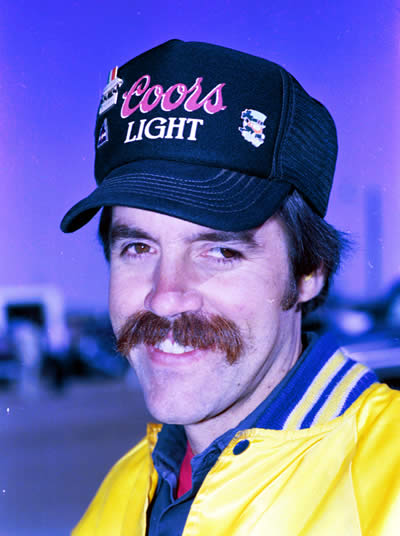 The board selected veteran motorsports photographer Joe Starr to be the recipient of the 2011 Jerry Van Dyke Memorial Award, recognizing outstanding contribution to motorsports by an individual.
Joe Starr was born in San Diego, California and attended his first race at one week old. He got his racing bug from his family who attended midget races in the 1940s and 50s in California and Colorado. His uncle, Jimmy, competed in many of the first midget races he witnessed. Upon his dad's retirement from the Navy, the family moved to Colorado in 1957. From the summer of 1967 every Saturday night it was either Englewood Speedway or Colorado National Speedway and then on Sunday it was Englewood Speedway or Lakeside Speedway.
In the fall of 1974 Joe bought his first camera with no thought of ever taking photos of race cars. He took the camera with him on a trip to Kansas City for a race at I-70 Speedway. Not knowing any better, he walked thru the back gate into the infield and shot some photos and then went back into the grandstand. He had no idea that he needed a pit pass to be in the infield.
Veteran race driver Don Woodard saw some of the photos he had taken and asked him to shoot some things for his business, Woodard Racing Graphics. He was taking many photos but was hesitant to actually speak to the people that he had photographed. He was helping Don Daly and Larry Keir at Englewood Speedway on Saturday nights. They literally forced him to speak with some of the drivers and show them the photos he had taken.
One of those drivers was Paul Garrison who was promoting the Erie Innovational once a year at Colorado National Speedway. Much to his surprise in 1980 Paul asked Joe to photograph the race because the regular photographer at CNS was not available for his race.
The photographer job at CNS became available for the 1981 season and George Butland called Don Woodard and asked if he knew anyone that could take on the job. Don sent Joe over to speak with George and he stared as the photographer at CNS in 1981.
As a result of his successful career, many of Joe's images have been published in numerous racing related publications across the country, and as a result of that, he has been able to attend many national events including NASCAR, World of Outlaws, Indy Racing, USAC and many others to numerous to count.
In 1986 Gary Garrison asked Joe to help him with a radio show he was putting together to try and help secure some sponsorship for his race car. That has lead to doing radio off and on ever since with a multitude of people that continues to this day.
After getting many requests to view the images that he had taken on line Joe got together with Eric Guttormson and started Big West Racing in 2002. Their philosophy has always been to present a positive face to racing. Joe retired from the US Postal Service as an Operations Support Specialist in May, 2008 with 35+ years of service. At the 2010 Colorado National Speedway Banquet, the Speedway Officials inducted Joe into the Colorado National Speedway Hall of Fame.
Joe continues to gather images at Colorado National Speedway and many other racing venues and to provide local racing information to a variety of local and national media sources.