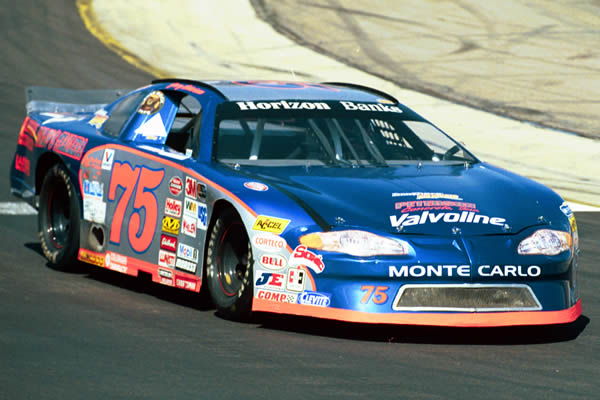 Jerry Robertson has built one of the most impressive racing resumes in the history of Colorado oval-track competition.  He began his competitive career by winning rookie of the year honors in the Colorado National Speedway Sportsman division at age 19, and moved up to the Late Model division in 1984.  From 1985 to 1993 Jerry toured the United States while based in South Carolina, winning 126 dirt Late Model races, many of which were special events attracting some of the most well-known drivers of the era.
Jerry and his family returned to Colorado in 1994, at which time he resumed driving in weekly events at Colorado National Speedway, which had been paved in 1989.  In his first year of asphalt racing, Jerry won the most trophy dashes and main events on the way to Rookie of the Year and Grand American Modified division Championship honors. From 1995-1999 Jerry raced in the multiple NASCAR divisions, as he gained experience on asphalt tracks. He had two top ten qualifying runs out of three starts in the Craftsman Truck Division, as well as two races in a Busch Grand National car at the Las Vegas Motor Speedway and Hickory Speedway. For the 2000 Season, Jerry decided to compete in every race of the season at Colorado National Speedway in order to compete in the NASCAR Weekly Racing Series. He won the Late Model division championship, a record ten main events, was awarded the NASCAR Great West Region Champion and voted Oval Track Driver of the year by regional sports writers.  He matched his record main event win total in 2001, and again won the CNS Late Model season championship and NASCAR regional Championship.  In 2003, he extended his record with eleven main event wins, and was the NASCAR Northwest Champion in 2004.  From 2000 to 2005, Jerry won and astonishing 51 main events out of 76 Races he entered. He still holds several records set during that period, including winning the "Pepsi Challenge" twice, event speed records for 40 and 100 lap races, and most main events in one season, set twice with 11 victories.  He is the only CNS driver to have won three Southwest Tour races at the track as well.
In 2005, returned to the Busch Grand National division, teaming with Barney Visser in the first years of Furniture Row Racing. He drove part-time in the series for the next three years, often out-qualifying established national teams as the team turned toward the successful operation it is today.  He also qualified for his first Nextel Cup race in 2005.
With his son Darren becoming a successful driver in the Late Model division, Jerry has maintained a support role as owner Robertson Racing in the past ten years, operating the race car fabrication business while serving as crew chief for Darren and entering a select few races as a driver.  One most notable event entered in this period came in 2014, Jerry, his dad Odie (who is also a 2016 Hall of Fame inductee), and Darren made historical news by being the first three-generation competitors in a NASCAR-sanctioned race when they competed against each other in a feature event at Colorado National Speedway.
Jerry Robertson has brought national attention to Colorado racing through a versatile career consisting of 164 main event victories on both dirt and paved tracks, four track championships and three regional NASCAR titles, and he time spent at NASCAR's highest levels of competition.  He continues his devotion to the racing community today through his business and support of local racers trying to find the fast line around the track.