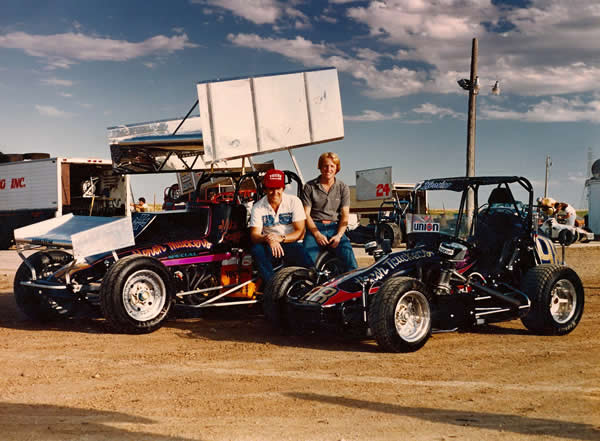 The father and son team of Henry "Hank" and Scot Hersh became interested in racing in the early 1970's, sponsoring local modified and stock car drivers, including Stan and Very Sheilling, Herb Renz and Kenny Clark. In 1976 they ran a sprint car with the Big Car Racing Association. In 1977 they began competing in midgets with the Rocky Mountain Midget Racing Association. They went on to win the RMMRA Championship from 1977 to 1982 and again in 1984 and 1987 with Mike Gregg as their driver. In all, they amassed 62 feature wins in RMMRA competition. They also won the 1982 RMP sprint car title in Colorado.
Other career highlights include winning the 1981 Belleville Midget Nationals and the 1984 midget feature race in the Seattle King Dome. They also won approximately 15 USAC National races. Other drivers that raced for Hank and Scot included Johnny Parsons, Steve Lotshaw, Dave Strickland, Jr., Bruce Field, Stan Fox and Brad Noffsinger. In 1984 and in 1986 they were also awarded the Curt Stockwell Sportsmanship award. Scot also served as a mechanic for the 1990 USAC Turkey Night feature at Ascot Speedway, the USAC midget feature race during the 1990 Copper World Classic in Phoenix and the 2009 USAC National Midget Championship, with driver Brad Kuhn.
Hank and Scot will always be remembered for having beautiful, well-prepared race cars carrying the "Hersh Truckers" logo representing the trucking business that Hank began in 1946 with his wife, Jean. The company is still operating today, run by his sons, Hank, Jr. and Scot. They also earned a well-deserved reputation for always helping other teams and their drivers, race tracks and local racing clubs.
Hank passed away in 1998.