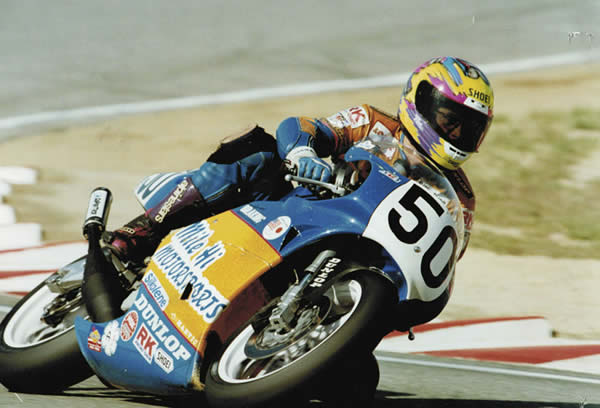 Donnie Hough began riding motorcycles at the age of seven. His father owned a Yamaha dealership in Boulder, Colorado and it was a natural progression to begin riding. Beginning in 1971, he rode JT-1 Yamaha mini enduros at Coal Creek Raceway. In the early 1980's, he began racing flat track on a TT 500 Yamaha motor in a Track Master frame. He was very competitive, racing all over Colorado against the likes of Danny Walker, Bruce Sass and many other fast flat trackers.
In 1985, he became interested in motorcycle road racing. In his first race, Donnie finished second in the last race of the Mountain Roadracing Association season at Second Creek Raceway. In 1986, he raced the entire MRA season. He would have finished in the top 10 in season points had it not been because he was required to race the first several race as a "novice," and not allowed to count the points towards the "expert" class points championship.
He finished the 1987 season in the top 10 in final standings in Open Superbike and 600 Superbike, and top five in Formula 1. He scored top 10 results in Open Superbike, 750 Superbike and Race of the Rockies events in 1988, and won the 1989 Formula Colorado Class Championship in modified dirt bike competition.
Donnie got his first true Superbike ride at the end of 1990 on a FZR 1000 and finished in the top five in the last race of the year at Second Creek Raceway.
In 1991, he won the MRA Open Superbike Championship, and in 1992 he notched his first Race of the Rockies Championship, as well as another MRA Open Superbike Championship. He repeated as Race of the Rockies Champion and MRA Open Superbike Champion again in 1993. Donnie went AMA 250cc National racing in 1994, running as high as 3rd in the U.S. before a bad crash at Laguna Seca. At the end of the 1994 season, he was invited to compete on the European 250 GP circuit. Though his results were not stellar, he got the experience of a lifetime.
Back in MRA competition in 1995, he finished third in a combined Race of the Rockies class. In 1996, not only did he win every Race of the Rockies 10 race series, something never before accomplished, he also set, and held, lap records at all of the MRA tracks. After the MRA season, he went to Daytona and proceeded to win two national championships in the AMA CCS Race of Champions, beating many factory riders.
He then won the 1997 MRA Middleweight Supersport Championship and finished eighth overall in the Race of the Rockies.
Since 1997, he has not competed in an entire season; however, he finished fifth at the 2001 AMA 250cc national event at Pikes Peak International Raceway. He also raced to a second place standing in the MRA 2006 Race of the Rockies GTU series.