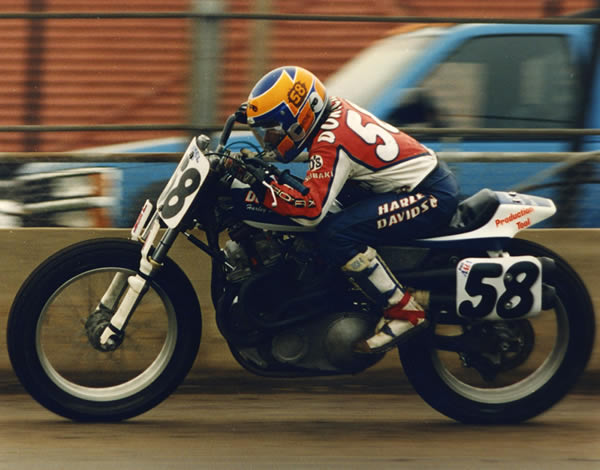 Davey Durrelle got his first motorcycle at age ten, rode in his first race at age eleven, and won his first short-track race in 1978.  In 1980, he turned pro and became Novice Pro #127K.  He won both Sturgis half-mile events that year and finished the year as 8th-ranked novice in the nation.  He moved to the expert division in 1982, and won major races at the DuQuoin, Illinois mile and Sturgis half-mile over the next two seasons.  After racing as much as he could from 1984 to 87, he formed a racing team with Butch Donahue to compete in the AMA National Series. The team was a success, finishing high in the order at major events in Indianapolis, Springfield, Pomona, and San Jose mile tracks.  After winning the Camel Challenge at San Jose in 1992, he suffered significant injuries in two separate incidents that led to a curtailed racing schedule in 1993 and 94.  He retired from the Grand National Series in 1995.
Davey Durrelle won the AMA Western Region ½ mile championship in 1984, 1987, and 1988.  In 2001 he came back to race the Formula USA series and won at the Delmar Mile.  In addition to his oval track accomplishments, Davey competed in the Pikes Peak Hillclimb from 1996 to 2011, winning the 250cc class in 2010; the 450cc class in 2006 and 2011; the 500cc class in 2002, 2003, 2004 and 2005; the 750cc class in 2007, 2008, and 2009; and the Open class in 1996, 1997, 1998, 1999, and 2001.  He claimed the overall Pikes Peak record in 2007, an incredible 15 wins in 15 races!  From 2012 to 2015, Davey won 4 classes each year for a total of 15 championships, and in 2013 and 2014 won the Colorado Ice Racing Championships in both 250 and Open classes.
His record speaks clearly for itself—he is a "champion's champion" and a most deserving inductee into the Colorado Motorsports Hall of Fame!