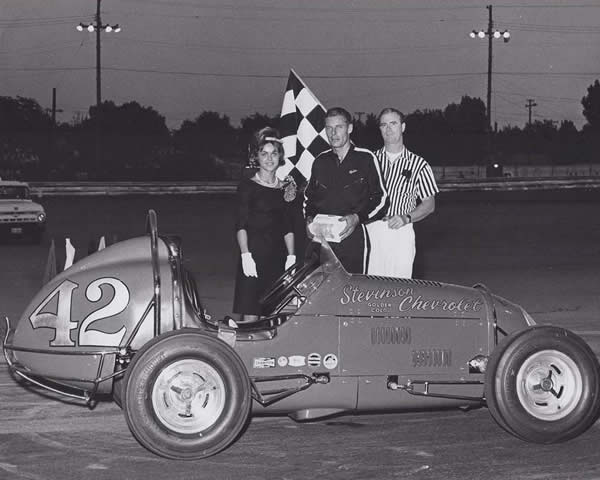 With his brother Vern, Buck Shaver began his racing career in 1954 when the Shaver brothers built a 1932 Ford coupe, #39, which they raced at Pikes Peak Speedway in Colorado Springs. Later on in 1956, Buck and Grier Manning purchased the Shaver and Manning Phillips 66 service station, where John Hollansworth got them interested in midget racing. In 1962, John drove the #42 V8/60 Ford midget for a few races in Denver while Grier raced stock cars at Pikes Peak Speedway.
In May, 1963, Buck teamed with driver Grier Manning full-time, and they brought the #42 Chevy 11 midget to Lakeside Speedway in Denver. From 1963 to 1971, Buck, Grier, and partner Chip Wendt won 32 Rocky Mountain Midget Racing Association features. In 1969, Buck, along with Chip was the championship car owner, and Grier Manning was the championship driver.
In addition to driving midgets, Grier also worked on stock cars in New York in the 1950's. Manning eventually began racing stock cars at Pikes Peak Speedway and later at Sportsman's Raceway Park. From 1963 to 1970 and in 1977, Grier competed in the open-wheel division of the Pikes Peak Hill Climb. In 1967 and 1968, he raced an Offy for JC Agajanian.
When Buck retired as owner of #42, he joined the Pikes Peak Chapter of Veterans Motor Car Club of America where he built engines are restored vintage cars. He served as president and technical vice-president of VMCCA.
Buck passed away in 2009.