Bruce "The Moose" Yackey was born in Greeley, Colorado in 1966.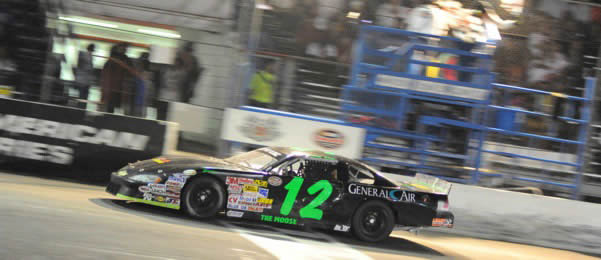 After football season ended during Bruce's high school senior year, he and his Uncle, Bob, built his first race car, a Chevrolet Vega, to run in the Mini-Stock class in 1984 at Big Country Speedway.
His first laps on the track were qualifying laps. By mid-season of his rookie year Bruce was becoming competitive and his first main event win was the last night of the 1984 season. He then went on to win the 1985, 1986 and 1987 Mini-Stock Season Championships at Big Country Speedway. Bruce also won regularly while competing in the Mini-Stock division in Gering, Nebraska.
In 1988, Bruce moved to the Street-Stock division at Big Country Speedway and immediately won the 1988 Street-Stock Season Championship. He also competed in his first Late Model race during the season ending event in Cheyenne, Wyoming.
During this time, Bruce also competed in Enduro races in Wyoming and Colorado. As a matter of fact, he won the last Enduro event on the dirt at Colorado National Speedway while competing against more than 200 cars on the track
In 1989, Bruce competed in the Sportsman division at Colorado National Speedway. During that season, he finished first or second in every race he completed in on his way to the 1989 Sportsman Season Championship.
He moved up to the Late Model division at Colorado National Speedway in 1990. In 1991, he also raced the inaugural ARTGO race in Colorado. He also began traveling to races in Illinois, Iowa, Minnesota, Kansas, Missouri and Wisconsin. It is during this time that Bruce's long-time sponsor, General Air Service and Supply, joined the program.
In 1992, Bruce raced with the NASCAR Southwest Series at Colorado National and he traveled to races in Arizona, California, Nevada, New Mexico, and Utah.
1993 was a breakthrough year as Bruce won his first regular season main event in the Late Model division and the season ending Challenge Cup XIX against many out of state drivers and future NASCAR stars. He then went on to win the 1996 Late Model division championship and place 2nd in the NASCAR Great West Region during that year and then in 1997 he not only won the Late Model division championship, but he claimed his first-ever NASCAR Great West Region title.
1999 was highlighted by his NASCAR Southwest Series Colorado 125 feature win at Colorado National Speedway. Bruce continued to race throughout the U.S., winning races with the USLMA series in Arizona, Colorado, Nebraska, and New Mexico, competing in Enduro races, driving in a competition truck pull, winning road course races at the Fort Collins Airport and Mountain View Motorsports Park, and winning the Frontier Classic in Cheyenne, Wyoming.
He also won the 2001, 2005, 2008, 2009, 2012 and 2013 Late Model Season Championships at Colorado National Speedway.
During the 2006 season, Bruce competed at Colorado National Speedway for the Late Model title and raced the entire NASCAR Midwest Tour schedule at tracks in Arizona, California, Colorado, Minnesota, Wisconsin, Tennessee, and South Carolina.
In 2007, under a new NASCAR structure, Bruce was the first ever Colorado NASCAR State Champion. He won additional NASCAR State Championships in 2008, 2009, 2012, and 2013.
During his career, he was named "Circle Track Driver of the Year" by the Rocky Mountain News, "Driver of the Year" by the Greeley Tribune and "Overall Sportsman of the Year" at Colorado National Speedway.
Bruce met his wife, Christi, at the Cheyenne track, where her father, Butch Bailey was a competing driver. They have three children; Brian, Brett, and Heather.