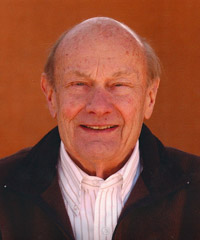 Bob Donner came to Colorado Springs in 1939 and began driving road courses while serving with in U.S. Marines, in California, in 1953. After returning to Colorado in 1956, he scored his first two victories, one on a road course the other a hill climb. Starting in 1958 he was racking up class and over-all wins on road courses across the Country driving a Porsche RSK and later a Porsche RS-61.He finished second overall in the United States Road Racing Championship event at Road America in 1962 and was running third overall at the Sebring 12 hour race in 1963 when he was forced to retire the car. During this period he won his class twice at the Pikes Peak Hill Climb, driving a Porsche.
Returning to racing after a 13 year layoff he began winning races all over the country, staring in 1976, driving Ferraris. In 1981, he managed a Ferrari 512 team effort at the Daytona 24 hour race; the car was running second overall before being knocked out of the race with less than one hour to go. Later that year, Ferrari arranged to enter Donner's Ferrari 512 in the 24 hour of Le Mans, where two Belgium drove the car to a seventh overall finish.
He served on the Pikes Peak Hill Climb Association's Board from 1979 through 1991 and was its president from 1988 through 1990. Bob passed away in 2010.